Concrete movable wall sections have many applications in commerce, agriculture, and the construction industry.
Examples of their effective use can include:
Storage of agricultural products
Traffic management
Salt storage
Slurry storage
Storage of building materials such as sand and stone
Sorting and storage of recyclables
Temporary animal housing.
Quality Control
Manufacture in controlled factory conditions ensures that concrete wall sections can be produced to the highest quality standards and delivered on site ready to use. Using precast panels means that the project can be completed quickly, unhindered by adverse weather conditions, allowing the wall to be brought into service at the earliest possible date.
Prestressed Concrete for Strength and Lightness
The use of prestressed concrete ensures that Croom movable wall sections have the advantages of combining maximum tensile strength with a low overall weight:
reduced transport costs
ease of handling.
Speed and Versatility
Because of their modular nature, individual sections of prestressed concrete walls can be replaced if damaged, and the entire wall can be relocated quickly and effectively when needed.
Types of Movable Wall
Croom Concrete manufacture a complete range of movable wall sections, each with its own advantages in various settings.
A Walls are free standing and can be quickly installed on a level concrete surface. Available in the range of heights, they are particularly suitable for storage bays, where the absence of a protruding foot minimises the risk of damage when used with a mechanical shovel.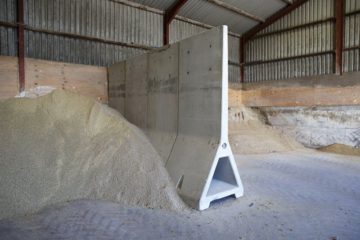 L Walls are an ideal solution for the rapid construction of retaining and containing walls, as well as storage facilities.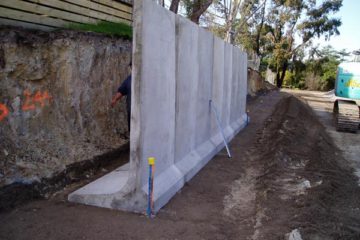 Bunker building blocks are put together in exactly the same way as toy bricks, providing a strong and stable structure in the shortest possible time. Their applications include storage, soil retention and blast walls, As well as flood and sea defences.