Here at Croom Concrete, quality is something we take very seriously.
We have our own purpose built testing facility and regularly perform tests on both finished products and on our raw materials. We ensure that we operate within an approved EN 1917 quality system and have achieved a CE certification.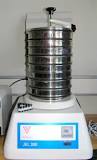 Sieve Analysis:
A sieve analysis (or gradation test) is a practice or procedure used (commonly used in civil engineering) to assess the particle size distribution (also called gradation) of a granular material. The size distribution is often of critical importance to the way the material performs in use.
Graduation Test
The gradation and size test (Figure 1) is used to determine aggregate particle size distribution. Size distribution is perhaps the single most important aggregate quality associated with the control of HMA mixtures. Aggregate gradation and size affect HMA volumetric properties as well as mixture permeability and workability.
Compression Test
The Compression Test is a procedure to determine the characteristic strength of the concrete to establish that it is fit for purpose. Although it is a relatively simple test it is extremely important and helps us monitor and maintain the quality and integrity of our products.
Samples are taken from the concrete as it is poured into the product mould and, depending on the product being poured, cast in to a number of either 100mm or 150mm standard cube moulds. The samples are then left to cure under normal conditions. Once the samples have properly set they are removed from the moulds and catalogued with identification and batch numbers.
Cube samples are then placed in to the concrete compression apparatus and crushed to destruction. The test results indicate the maximum compressive strength of the concrete and results are recorded and filed. All the concrete used in Elite products is high strength 50N/mm2.
Proving the product – cured stock testing
We take regular cores from our products to check concrete strengths and aggregate distribution.
Daily tests are taken for aggregate moisture content, concrete hardness and reinforcement placement to ensure sufficient concrete cover to steel.
There are also several bespoke compression testing rigs to ensure product performance under specified usage conditions.
---
For more information about this or any of our products, contact us by email, info@croomconcrete.ie, call us on 061 397479 or fill in our contact form.